Nearly $1.5 million in Federal Grants Brings Indoor Mobile Therapy Gardens, Improved Staff Training to Nursing Homes Across Washington
Press Release –

D

SHS: Office of Communications
OLYMPIA – The Department of Social and Health Services (DSHS) has awarded nearly $1.5 million in grants that will improve the lives of nursing home residents and provide the staff that serve them with access to additional training. The grants are funded by the Centers for Medicare & Medicaid Services (CMS) and are part of the
Civil Money Penalty Reinvestment Program
(CMPRP). When nursing homes are fined for failing to meet federal health and safety standards, a portion of that money goes into a fund that is reserved for reinvestment in projects. The CMPRP is a national effort to reduce adverse events, improve staffing quality and enhance dementia care in nursing homes.
"It is crucial that we continue to invest in these programs and give back to these facilities," said DSHS' Aging and Long-Term Support Administration Assistant Secretary Bill Moss. "They truly improve the quality of care for nursing home residents."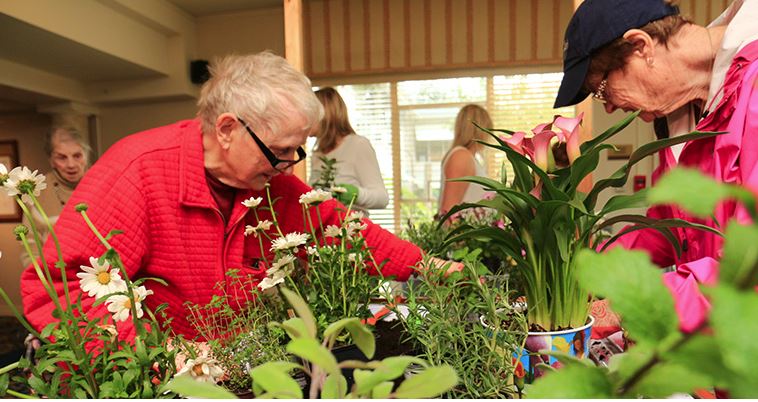 LeadingAge Washington was awarded more than $700,000 from the CMPRP and has partnered with Eldergrow to install indoor mobile gardens at 31 nursing homes across the state. Eldergrow educators will also teach therapeutic horticulture classes at each facility twice a month. According to experts, therapeutic horticulture improves mood, self-esteem and motor skills as well as reduces the risk factors for dementia.
"Partnering with Eldergrow on this project matches our organization's commitment to providing our members with the support they need to improve the quality of care and life for their residents," said LeadingAge Washington CEO Deb Murphy. "This CMPRP grant is making it possible to enhance the lives of hundreds of elders living in skilled nursing facilities."
---
Link below is a great feature on the Eldergrow Garden project that was aired last week on KXLY News 4 in Spokane! Congrats' Rockwood Retirement!
https://www.kxly.com/rockwood-senior-residents-blossom-through-an-indoor-mobile-garden/
---
Just over $644,000 was awarded to Nurses Improving Care for Healthsystem Elders (NICHE) of the New York University Rory Meyers College of Nursing. NICHE's training program is designed to improve patient care and staff management practices at nursing homes. Studies have shown that NICHE helps to prevent falls, improves patient safety, reduces medication errors and improves the way providers care for patients with dementia.
"Nursing homes play an important role in ensuring the health and safety of frail elders with complex needs," said Jennifer Pettis, associate director of the NICHE long-term care program at NYU Meyers. "We are thrilled to collaborate with DSHS to arm nurses with evidence-based practices allowing them to provide the best possible care for the state's aging population."
DSHS accepts applications year-round for these grants. They are first reviewed by the CMPRP Committee at the state, and if approved, sent to CMS for review and consideration.
More information about the program and the awarded grants can be found here.
---
Questions?
Pat Sylvia, Director of Education and Member Development, LeadingAge Washington PSylvia@LeadingAgeWA.org